Ableton Live 10 Suite - Lizenz Code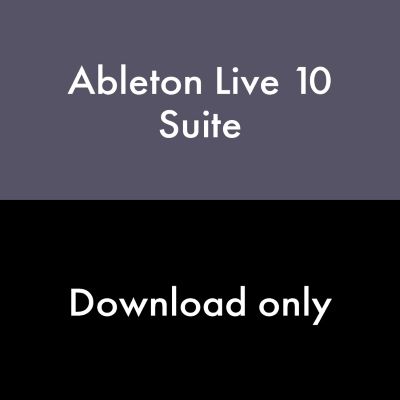 Availability online:
Delivery time: 1 ‐ 6 business days (Germany)
---
Check availability in store:
---
4042921881715
Ableton Live 10 Suite - Lizenz Code is also available in the following bundles
Ableton Live 10 Suite - Lizenz Code Product Details
Description
Features:
You will receive the Ableton License Code by email after receipt of payment and only during our business hours. You can download the corresponding Ableton Live version directly from Ableton.
Unique Session View for quick, intuitive composition, flexible performance and improvisation
Nondestructive editing with unlimited undo
Multitrack recording up to 32-bit/192 kHz
Powerful MIDI sequencing of software and hardware instruments
Advanced warping and real-time time-stretching
Unlimited Instruments, Audio effects and MIDI effects per project
Group tracks: Use multiple levels of groups to mix with greater flexibility and manage detailed arrangements more easily.
VST and Audio Unit support
Time signature changes
Multiple automation lanes
Track Freeze
Capture MIDI: Recall your best ideas after you've played them – Capture MIDI can turn what you played into MIDI clips, without having to think about recording.
Automatic plug-in delay compensation
MIDI remote control instant mapping
MIDI output to hardware synths
MIDI Clock/sync
ReWire
Multicore/multiprocessor support
WAV, AIFF, MP3, Ogg Vorbis, FLAC file support
Ableton Link: A technology that keeps instances of Live and a growing collection of iOS apps in time over a wireless network.
Audio & MIDI tracks: Unlimited
Scenes: Unlimited
Send and return tracks: 12
Audio inputs: Mono audio input channels: 256
Audio outputs: Mono audio output channels: 256
Max for LiveUpdated for Live 10: Powers a range of instruments and devices in Live Suite, and lets you customize or build your own devices, change the way Live works, and connect Live with the world around it.
Complex warp modes: Advanced algorithms for stretching audio, ideal for working with mixed audio or full tracks.
Audio-slicing: Slice audio to a Drum Rack or Sampler instance.
Audio to MIDI: Extract harmony, melody or drums from an audio sample and convert it to MIDI.
REX file support: Support for ReCycle/Reason audio files.
POW-r dithering: Mastering quality dithering modes for downsampling audio.
Video import/export:Import video as a clip and save modified video and audio.
Groove Pool and extract groove: A set of templates for timing and "feel" of sequences – or make your own by extracting timing from existing audio material.
10 software instruments: Wavetable, Operator, Sampler, Analog, Electric, Tension, Collision, Simpler, Drum Rack, Impulse, Instrument Racks and connection to external instruments
57 audio and MIDI effects, e.g. drum buss, echo and pedal
Over 5000 sounds
More than 70 GB loops and samples
automatically compensates for latencies in plug-ins
instant assignment of MIDI controllers
Further links
Specs
| | |
| --- | --- |
| Box or Download: | Download Version |
| Set Offer: | no |
| License: | full Version |
| Type: | Software |
| Theme: | Recording and Studio |
Product Rating
latest reviews:
Musikproduktion im professionellen Bereich. Eine Eingewöhnung und Einarbeitung, sollte man neu mit Ableton arbeiten, ist definitiv wichtig und erforderlich. Hierfür gibt es viele Tutorials und Online Kurse. Bislang wurden schon erste Sounds und Beats gebaut und ich bin mehr als begeistert.
einfach super. werde es jedem empfehlen
Financing
Ratenkauf by easyCredit
You have the option to easily pay the order amount in installments. This service is only available in Germany.

Order amount: 200 EUR - 10000 EUR
Duration: 6 - 60 months
instant decision, no PostIdent required
Further information in the infocenter
Financing ConsorsFinanz
Finance simply and securely through our partner ConsorsFinanz. You may choose your monthly installments flexible according to your wishes. This service is only available in Germany.

Order amount: 250 EUR - 10000 EUR
Duration: 6 to 72 months
0% financing with duration up to 12 months
Further information in the infocenter