Musikhaus Korn Oschatz
Address
Musikhaus Korn - Oschatz
Thomas-Müntzer-Str. 4
04758 Oschatz
Germany
Opening hours
Store Mo-Fr: 13.00-18.00 | Hotline Mo-Fr: 09.00-18.00

All information on the current Covid-19 protections that affect us is available here: Current Information.
Contact
Phone: 03435 9880 0
Telefax: 03435 9880 19
E-mail: info@musikhaus-korn.de
Homepage: www.musikhaus-korn.de
Journey
The music store
Since the formation of Musikhaus Korn in 1997 one thing particularly characterizes our philosophy: authenticity. That's why most of our associates are DJs, musicians, producers or case builders who work in our stores and provide advice and support for our customers. For our associates the slogan "Music for Life" is more than just an empty phrase. It is a passion that influences their everyday life and that our customers can benefit from.
Our associates therefore not only combine know-how, experience and competence, above all they know what musicians, DJs, producers and organizers need to perform strongly. A top priority of our philosophy is to offer you the best advice and service possible.
Today Musikhaus Korn offers more than 50.000 products that are not only available in our stores in Oschatz, Dresden, Leipzig Connewitz, Leipzig Centre and Halle (Saale), but also at our online shop at www.musikhaus-korn.de. Even if Musikhaus Korn is among the biggest music stores in Germany by now, serving more than 1.150.000 clients and sending around 10.000 packages per month, the satisfaction of our customers is still at the heart of our business.
Our headquarters are located in Oschatz/Lonnewitz in the centre of the Free State of Saxony, in between Leipzig, Dresden and Chemnitz. Our ground-breaking "Korn Shopping App" was developed here as well - the first shopping app for musical instruments in Germany.
In our sales rooms that cover an area of around 500sqm you will find nearly everything what a musician's heart desires. Our open-plan office, the core, the control room and our logistics centre where our assortment of goods is stored in large parts are located here as well. Beyond that there are the departments of purchase, sale, accounting, marketing and IT.

Guitar section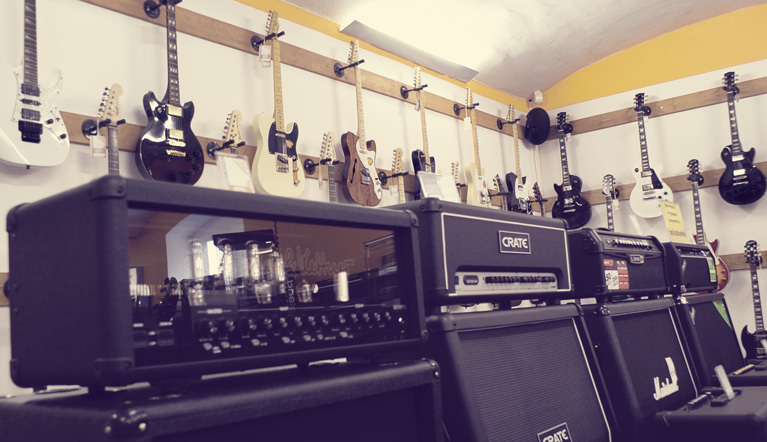 The guitar section is situated on the ground floor of the main building and takes up the largest part of our exhibition space. Round about 100 guitars including concert guitars, acoustic/western guitars, electric guitars and basses are waiting to be discovered by ambitious guitarists and bassists. Whether you are a beginner or a professional our product range is large enough to suit everybody. Of course you can test your favourites extensively and rock the store. In addition to instruments one can find adequate accessories like combos, amps, effects and much more.
If your guitar accidently fell down during the last concert our associates who are experienced musicians as well will gladly help choosing a new one. If your amp or any kind of equipment has been damaged - we will offer you an adequate device for an adequate price.
In case of a repair our specialists are at your disposal during business hours and they will look after your precious. Whether you need new strings, tuning of your guitar or repairs – our service department will help you! If there are serious damages it is often possible to make use of the manufacturers' service and thereby solve nearly any problem.

Drums section
What would music be without the right beat? Whatever music you prefer, rhythm gives it its unique character. Whether one prefers acoustic or electronic drums is a matter of taste. E-drums in contrast to classical drum sets produce their sound through a beating impulse that triggers a sound via a drum module.
We have exclusive acoustic and e-drum sets in stock, so you can add groove to your music.

Keys section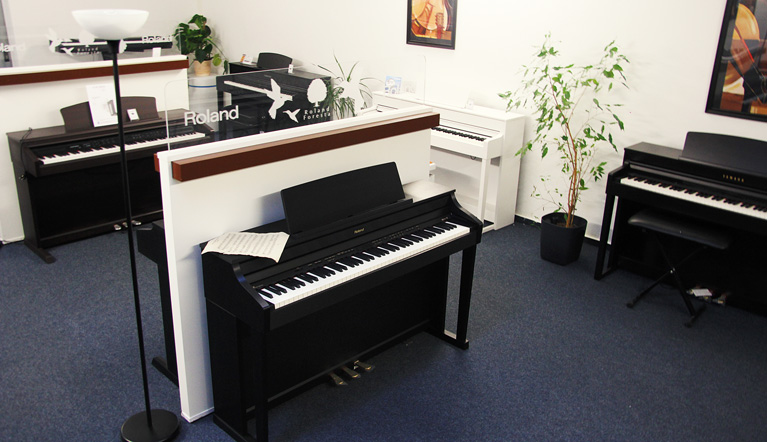 The purchase of a musical instrument is a thing close to the heart. Every musician knows that buying an instrument is a complex process where all senses are involved. As authorised shop we keep all established keys instruments and brands like Kawai, Korg, Roland or Yamaha in stock. We have selected keyboards (home, entertainer, master) and synthesizers available and ready for testing. You can choose within a wide range of digital pianos as well and test them thoroughly without time pressure. That is the best way to find out if an instrument is the right one for you and to get to know its traits.
Of course our competent and experienced staff will help you and provide advice so you can find the perfect instrument..

Studio section
The department for studio and recording is one of the base elements of Musikhaus Korn. Our customers benefit from the long-time experience of our team who are music producers themselves or even own a recording studio. .
With the acquisition of the "Touched by Sound GmbH" in April 2012 our product range was extended even further. Now it includes everything from audio interfaces and studio effects to headphones, microphones and preamps to sequencer and studio software or synthesizers and controllers of all popular brands.
DJ section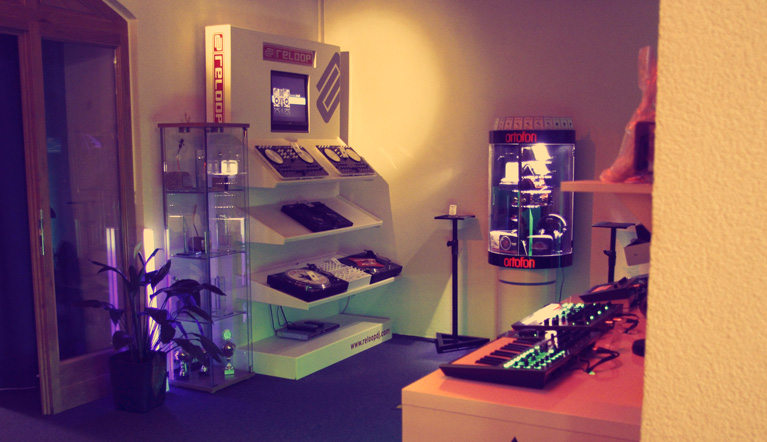 Our DJ section is the oldest department of our music store. Everything started with the Deejayladen in 2001 – the first store of its kind in Oschatz. Since then a lot of things have changed, but one remained the same: the Deejayladen is the No.1 retail store for all local DJs because of its large assortment of goods and the competent service provided by our team.
Music is spread mostly via digital files in these times, so Dj's are not bound to a specific medium. With digital mixing tools DJ's are offered nearly endless possibilities for handling and storing music. In our store in Oschatz you will find all necessary tools like controllers, mixers, DJ software, time-code systems, DJ effect devices, DJ sampler and synthesizers or stand-alone audio interfaces.
For all who prefer the original DJ feeling conveyed by classic vinyl we offer several turntables of popular manufacturers like Reloop, Numark or Pioneer as well as cases and bags. Besides PA systems and light arrangements it is possible to rent a variety of DJ equipment, too.

PA and light tech section
PA systems are designed to provide high quality sound for anything from small clubs to large halls and stadiums. "PA" stands for "Public Address", which refers to their use in public areas. PA Systems enhance the perception of the audience and – in the hands of an experienced sound engineer - guarantee a well-balanced performance of speech, voice and musical instruments.
In our store in Oschatz you can find different PA and light systems for all kinds of venue sizes. Our associates in that department are experienced technicians who know their equipment. They constantly use systems like these for performances, trainings and tests.
If you are in need of a PA system for some smaller or greater event, it is possible to rent adequate sound and light systems right up to mobile XXL stages. Our experienced light and sound engineers will help you and can be committed for controlling your event, too.

Service and logistics
Service ranks first in all of our departments. That is not only true for customer service, but for our teams behind the scenes, e.g. our shipping office, too. They are responsible for all retour and warranty cases and for the provision of spare parts. If small repairs are needed or if an article is not produced anymore, our associates will do their best to solve your problem within a short period of time. In case of a heavy defect a fast repair is possible due to our good relations to the service departments of manufacturers and distributors.
Our logistic centre represents the biggest part of our premises. On two floors we organize our extensive assortment of goods using a smart and flexible shelf storage system. Because we are situated close to the transshipment point Halle/Leipzig, we can deliver available products inside Germany at the following day of the reception of the order with a probability of 90%.

Impressions