Microtech Gefell M 300 dunkel bronze im Holzetui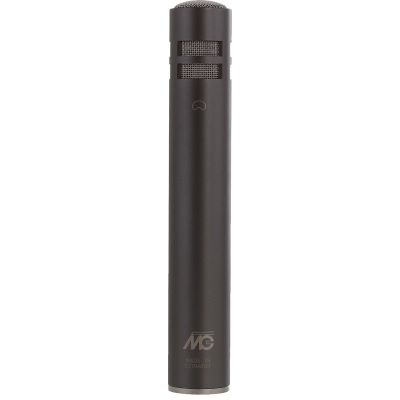 We are no longer offering this product. You will surely find a current product that meets your needs, because we are striving to expand our extensive product range.
Rating:
No review available
4251059202488
Microtech Gefell M 300 dunkel bronze im Holzetui Product Details
Description
The M 300 is a compact studio-quality condenser microphone. The frequency response of the transmission factor is largely uniform for a large sound incidence range and has a slight presence of 3 dB between 6 and 10 kHz. The miniature microphone is therefore particularly suitable for vocals and instrumental soloists that need to be reproduced faithfully when the direction of speech is varied, e.g. speakers in dubbing studios, speakers, wind instruments.
The M 300 is intended for use in radio, television and film studios for the transmission or recording of music instruments, singing and speech as well as for sound reinforcement tasks in professional and semi-professional areas, even under acoustically unfavourable conditions, such as in churches.
A new low-noise, highly controllable impedance converter in hybrid technology and the transformerless circuit concept guarantee a low replacement volume and high operational reliability.
The EMC resistance of the M 300 is significantly higher than that of conventional microphones. The M 300 is connected via a 3-pin XLR plug with the microphone connection cable C 70. The 48 V phantom power supply, which is internationally standardised as P 48 in DIN 45596 and IEC 268-15, serves as the power supply. A 2-channel connection is possible with the mains connection device N 200.
The surface of the miniature microphone is dark bronze. The use of the pop screen W 20 is recommended for close-up conversations.
Features:
Polar pattern: cardioid
Acoustic mode of operation: pressure gradient transducer
Transmission range: 40 ... 18000 Hz
Field operation transmission factor at 1 kHz: 12 mV / Pa
Rated impedance: 100 Ω
Equivalent noise level: CCIR 468-4: 26 dB; DIN EN 60651: 16 dB - A
Signal-to-noise ratio (referred to 1 Pa at 1 kHz): CCIR-weighted: 68 dB; A-weighted: 78 dB
Limit sound pressure level for 0.5 % distortion factor: 147 dB
Dynamic range of microphone amplifier: 131 dB
Current consumption (P 48, DIN 45596, IEC 268-15): 3.3 mA
Connection armature: XLR connector 3-pole, contacts gold-plated
Weight: 126 g
Dimensions (L x ø ): 130 x 21 mm
Further links
Specs
| | |
| --- | --- |
| Converter: | Condenser |
| Polar pattern: | cardioid |
| Color: | Bronze |
| Set Offer: | no |
| Type: | Microphone |
| Theme: | Microphones |