Pioneer DJ PLX-1000 Turntable B-Ware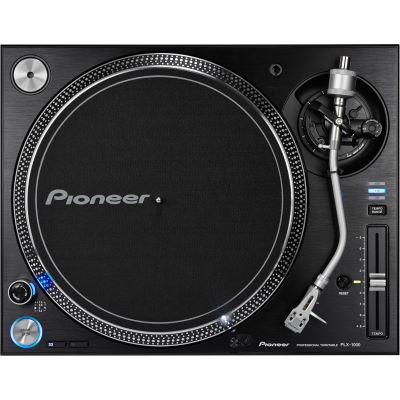 We are no longer offering this product. You will surely find a current product that meets your needs, because we are striving to expand our extensive product range.
Secure Shopping
Fast shipping
1 month right of withdrawal
Buyer protection
Secure payment with SSL encryption

Rating:
No review available
Shipping Weight:
17.10 kg
4988028245237
Pioneer DJ PLX-1000 Turntable B-Ware Product Details
Description
Why B-Stock?
Device from exhibition with slight signs of wear on chassis.
Fitting case: 590004
The PLX-1000 is precision engineered for the booth, drawing on 50 years' experience of making high-end turntables. This high-torque direct drive turntable is equipped with a classic layout and a rubber-lined, S-shaped tone arm that improves isolation and prevents feedback. It is solidly built for excellent vibration damping and ultra-precise, high grade audio playback.
Featuring next generation improvements, the PLX-1000 is the perfect score for professional DJs and vinyl enthusiasts. Combine this turntable with your Pioneer DJM mixer and get the ideal DJ system set-up.
Features:
Power Requirements AC 220-240V / 50/60Hz
Power Consumption 9 W
Weight 13.1 kg
Dimensions 453 x 159 x 353 mm
Output 1 x RCA
Accessories: Turntable sheet, Slip mat and sheet, Dust cover, Head shell, Balance, sub and shell weights, Audio cable, Ground wire
Drive Method Quartz lock, servo-type, direct drive
Motor 3-phase, brushless DC motor
Braking System Electronic brake
Rotation Speed 33⅓-45 rpm
Rotation Adjustment Range ±8%, ±16%, ±50%
Wow and Flutter < 0.1% WRMS (JIS WTD)
S/N Ratio 70 dB
Turntable Aluminium, die-casting diameter: 332 mm
Starting Torque > 4.5 kg/cm
Start Time 0.3 seconds (at 33⅓ rpm)
Arm Type: Universal type S-shape tone arm, Gimbal-supported type bearing structure, Static balance type
Effective Length 230 mm
Overhang 15 mm
Tracking Error Within 3°
Height Adjustment Range 6 mm
Stylus Pressure Variable Range 0-4 g (1 scale 0.1 g)
Cartridge Weight 3.5-13 g (single cartridge), With shell weight: 3.5-6.5 g, With balance weight: 6.0-10 g, With sub weight: 9.5-13 g
Further links
Specs
| | |
| --- | --- |
| Type: | Turntable |
| Color: | Black |
| Set Offer: | no |
| Drive: | Direct Drive |
| Digital Output: | none |
| Theme: | DJ Equipment |