Rental - Laserworld Laser DS 2000 RGB - pcs./day -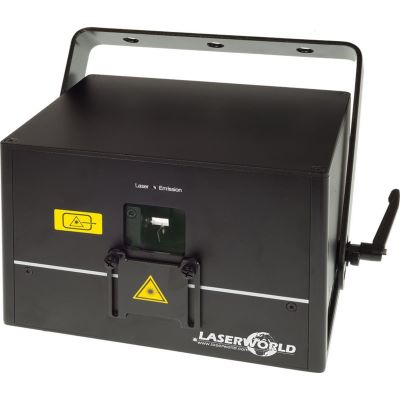 EUR 95.00
incl. VAT | lease price per piece

Price is valid for self-collection
Location 04758 Oschatz (Sachsen)
Rating:
No review available
Rental - Laserworld Laser DS 2000 RGB - pcs./day - Product Details
Description
The Laserworld DS-2000 RGB is a pure diode show laser with analog modulation, sealed housing technology and many functions that will enrich your event. Operation in automatic and music mode is also possible. The Laserworld DS-2000RGB has 450 mW red at a wavelength of 638 nm. In addition, green diodes with a wavelength of 520 nm (400 mW) are integrated. The blue diode has an output of 1'400 mW with 450 nm.
Technical data:
Power red: 450 mW / 638 nm
Power Green: 400 mW / 520 nm
Blue power: 1'400 mW / 450 nm
Beam parameters (full angle): approx. 4 mm / 1.1 mrad
Laser sources: Diode
laser class: 4
Operating modes: ILDA, DMX, LAN, ArtNet, integrated SD card, automatic mode, music mode
Scan angle max.: 45°
Basic patterns: over 120 (layers, tunnels, grids, wave effects etc.)
Power consumption: 45 W
Dimensions (L x W x H): 210 x 170 145 mm
Weight: approx. 4 kg
Price at collection in Oschatz
ATTENTION: We would like to point out that this device contains a class 4 laser (according to the classification of DIN EN 60825-1:2015-07). The laser is therefore only awarded upon presentation of a laser protection certificate.
additionally rentable equipment:
Personnel for the moderation of your event
Sound engineering for your event
Lighting technology for your event
and much more besides
additional costs:
plus transport costs (individual calculation according to expenditure)
Further links