Rental - Stage - Stagemobil XL-1 + Sidewings - piece/day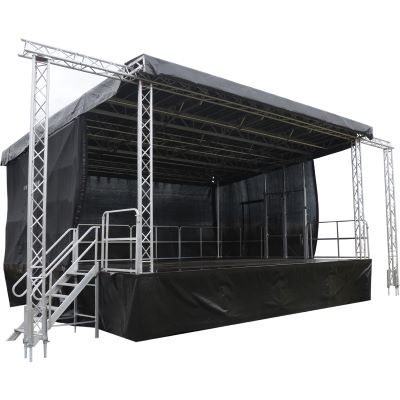 EUR 950.00
incl. VAT | lease price per piece

Price is valid for self-collection
Location 04758 Oschatz (Sachsen)
Rating:
No review available
Rental - Stage - Stagemobil XL-1 + Sidewings - piece/day Product Details
Description
With our "Stagemobil XL" you are equipped for every event - no matter if it is a city festival, a festival or a concert! The 48m² stage area offers enough space, also for several artists, dance groups, company presentations and much more.
Conventional stage systems are well known to most people. However, these are associated with a great deal of time and energy, especially with regard to the structure. Our mobile trailer platforms offer several advantages in this respect. The most decisive advantage - which also saves costs - lies in the enormously short assembly time of the mobile stages of just 1-2 hours (depending on local conditions) and with a staff of only 1 specialist. The simple handling saves the additional use of wheel loaders or similar and minimizes the background noise during assembly and disassembly. Due to the dead weight of the mobile stages, additional ballast is not required. Immediately after the end of your event, the stage can be dismantled and transported within a few hours.

For further individualisation of your event, we are happy to expand our "Stagemobil XL" with optional sidewings for PA and/or banners or pedestals (e.g. monitor/technology station).
Technical data:
Stage area: width 8 m, depth 6.10 m (48 m²)
Platform height: 1.20 - 1.40 m
Front clearance height: 3.40 m
Rear clearance height: 2.60 m
incl. stage gauze (wind permeable)
incl. a staircase
incl. railing (three sided)
incl. sidewings
no balasing necessary
Total roof load: 1050 kg
Platform floor load: 350 kg/m²
TÜV tested with proof of stability
additional rentable equipment:
Personnel for the technical support of your event
Sound technology for your event
Lighting technology for your event
and much more
additional costs:
plus transport costs (individual calculation according to expenditure)
plus personnel costs for the construction and dismantling of the stage
Further links