Universal Audio Apollo X8 B-Ware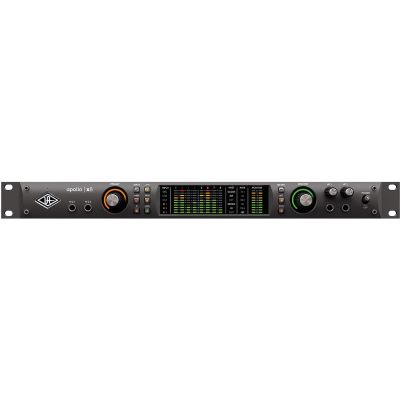 EUR 2,549.00
incl. VAT | incl. Shipping Cost
| | | |
| --- | --- | --- |
| instead of SRP | : | 3,212.00 EUR |
| You save | : | 663.00 EUR (20.64 %) |
Availability online:
Delivery time: 1 ‐ 2 business days (Germany)
Today shipping with payment till 17:00
---
Check availability in store:
Dresden

:

not on stock *




Halle (Saale)

:

not on stock *




Leipzig Centre

:

not on stock *




Leipzig Connewitz

:

not on stock *




Oschatz

:

can be picked up immediately



* The product can be delivered to this store within 2-4 business days. Simply select the "Pickup to Store" type of delivery during the checkout prozess.
---

Rating:
No review available
819937002472
Universal Audio Apollo X8 B-Ware Product Details
Description
Why B-Ware?: The article shows minimal signs of use.
Apollo x8 equips music producers and post-production studios with new world-leading A/D and D/A converters, HEXA Core UAD plug-in processing and 7.1 surround sound monitoring - all in a sleek Thunderbolt 3 audio interface for Mac or PC.
This 18 x 24 interface is based on UA's 60 years of experience in designing and manufacturing professional audio equipment. It features four Unison™ - microphone preamps that provide authentic preamp emulations of Neve, API, Manley, Helios, SSL and others. The all-new HEXA Core Plug-In Processing means 50% more DSP power for real-time use of UAD powered plug-ins.
With thousands of chart listed songs and hundreds of Grammy award-winning albums in their trophy cabinet, Apollo Interfaces have already proven their excellence in recording fantastic sounding records. To enhance the first-class audio conversion of the previous generation of Apollo Interfaces, the UA engineers listened and evaluated the latest A/D and D/A converters with the utmost meticulousness, finally fusing the chosen 24-bit/192 kHz converters with a completely new analog circuit to create an optimally undistorted signal path.
With a dynamic range of 129 dB and -119 dB THD+N, it captures the open, natural sound quality of the Apollo x8 with every dedicated high-end converter on the market and is the perfect starting point for further sound enhancement with the award-winning UAD plug-ins.
Apollo x8 features the new HEXA Core Processing, with six DSPs and 50% more processing power for UAD plug-ins than in the previous Apollos. This allows you to use additional UAD plug-ins simultaneously, whether you are working in real time with Neve, Manley or API channel strips or want to use many UAD plug-ins when mixing in your DAW.
From the warm tube sound of Pultec EQ on guitars to the musical limitations of the LA-2A on vocals to the original pumping of an original 1176 or Fairchild 670 tube compressor on drums, your recordings using the UAD plug-ins will sound more powerful and three-dimensional. These typical characteristics of analog sounds cannot be achieved with any other plug-ins.
The perfect solution for musicians, sound engineers, producers and sound designers, Apollo x8 features four Unison-enabled mic preamps that allow you to record via detailed mic pre emulations from Neve, API, Manley, SSL and Universal Audio.** Exclusively in Apollo Interfaces, Unison technology reproduces the tonal colors of these coveted tube and transistor microphone preamps with 100% detail - including input impedance, gain stage "sweet spots" and component-level circuit behavior of the original hardware.
The secret of Unison lies in the hardware-software integration between Apollo's microphone preamps and the integrated UAD real-time processing. Simply load a Unison preamp plug-in into the microphone input channel of the Apollo Console software. The plug-in physically reconfigures the Apollo's impedance and input gain. This way, you can use the classic sounds of the world's most frequently recorded microphone preamps.
One outstanding feature of Apollo is its UAD real-time processing, which allows you to use the entire UAD plug-in library with virtually no latency. The Apollo x8 comes with the Realtime Analog Classics Plus plug-in bundle - featuring the world's only true-to-original emulations of Teletronix LA-2A, 1176LN and Fairchild compressors, the Unison-capable UA 610-B Tube Preamp & EQ, and Marshall and Ampeg guitar and bass amps.
Apollo x8 goes far beyond the capabilities of the included Realtime Analog Classics Plus plug-ins and gives you access to the complete UAD Powered Plug-In Library from major manufacturers with vintage EQs, compressors, reverbs, tape machines, channel strips and more. Processing is virtually latency-free, regardless of the buffer size of your audio software and without taxing your computer's CPU.
With exclusive emulations from Neve, Studer, Manley, API, Ampex, Lexicon, Fender and anderen†, it's like owning a coveted recording studio full of legendary analog gear in just one 19" rack unit. Unlike competing interfaces, these DSP-based plug-ins are also available to you when mixing in the DAW.
With full support for surround monitoring up to 7.1 format, Apollo x8 is a boon for sound engineers and producers dedicated to music for games, television and the Internet. In addition, Apollo x8 offers selectable +24 dBu operation for pre-configured compatibility with professional mixing consoles and other high-quality pro audio equipment.
Apollo x8 provides 18 x 24 simultaneous inputs / outputs (6 x 6 analog I/O) and two integrated Thunderbolt 3 ports. This allows any Thunderbolt-equipped Apollo Twin Desktop or Apollo Rack interface (up to four Apollos) and a total of six UAD-2 devices to be easily combined - and the system expanded with additional fast I/Os and high-bandwidth DSPs as studio needs grow.
Universal Audio's Senior Product Manager Gannon Kashiwa delves deep into the key features, specifications and developments of the latest generation of Apollo audio interfaces.
Features:
Record via the outstanding A/D and D/A conversion - with the widest dynamic range and lowest noise on the market
Thanks to the integrated Unison™ technology via preamp emulations of Neve, API, Manley, Fender and others almost latency-free aufnehmen†
Mix with powerful HEXA Core signal processing - it provides 6 UAD DSP chips for real-time use of additional award-winning UAD Powered Plug-ins
Easily integrate the interface into high-end systems with 7.1 surround sound monitoring and selectable +24 dBu headroom
18 x 24 Thunderbolt 3 audio interface with premium 24-bit / 192 kHz audio conversion (backward compatible with Thunderbolt 1 and 2 on Mac)
Realtime UAD HEXA Core Processing for nearly latency-free recordings via UAD plug-ins, independent of buffer settings
Record via four Unison-enabled mic/line preamps - for completely authentic preamp emulations of Neve, API, Manley, SSL and others
Includes the "Realtime Analog Classics Plus" UAD plug-in bundle with UA 610-B tube preamp, Legacy Pultec EQ, LA-2A and 1176 compressors, Marshall Plexi Classic, Ampeg SVT-VR Classic and others
Integrated UAD HEXA Core Processing for additional mixing power in Pro Tools, Logic, Cubase, Ableton and other major DAWs
Combine up to four Thunderbolt-equipped Apollos and a total of six UAD-2 units
Selectable +24 dBu operation for easy compatibility with professional mixing consoles and tape machines
Convenient monitoring functions on the front panel, including alt speakers, talkback microphone and selectable dim or mono
Line inputs 8 x balanced 6.3 mm jack (TRS)
Microphone inputs 4 x balanced XLR
Instrument (Hi-Z) inputs 2 x unbalanced 6.3 mm jack (TS)
Digital inputs (Optical TOSLINK) ADAT: 8 channels @ 44.1 to 96 kHz
ADAT: 4 channels @ 176.4 to 192 kHz
Digital inputs (RCA) S/PDIF: 2 channels @ 44.1 to 192 kHz
Microphone preamplifier: Dynamic range: 122 dB (A-weighted)
THD+N: -115 dB (0.00019 %)
Frequency response: 20 Hz to 20 kHz, ±0.05 dB
Line inputs: Dynamic range: 123 dB (A-weighted)
THD+N: -113 dB (0.00022%)
Frequency response: 20 Hz to 20 kHz, ±0.04 dB
Line outputs: 8 x balanced 6.3 mm jack (TRS)
Monitor outputs: 2 x balanced 6.3 mm jack (TRS)
Headphone outputs: 2 x 6.3 mm stereo jack
Digital outputs (Optical TOSLINK) ADAT: 8 channels @ 44.1 to 96 kHz
ADAT: 4 channels @ 176.4 to 192 kHz
Digital outputs (RCA) S/PDIF: 2 channels @ 44.1 up to 192 kHz
Line outputs: Dynamic range: 127 dB (A-weighted)
THD+N: -118 dB (0.00011%)
Frequency response: 20 Hz to 20 kHz, ±0.07 dB
Monitor outputs: Dynamic range: 129 dB (A-weighted)
THD+N: -118 dB (0.00012%)
Frequency response: 20 Hz to 20 kHz, ±0.06 dB
Headphone outputs: Dynamic range: 125 dB (A-weighted)
THD+N: -102 dB (0.00080%)
Frequency response: 20 Hz to 20 kHz, ±0.05 dB
Further links
Specs
| | |
| --- | --- |
| Type: | Audio Interface |
| Color: | Black |
| Rack Mountable: | yes |
| Line Inputs: | 8 |
| Line Outputs: | 8 |
| Mic Inputs: | 4 |
| Phono Inputs: | 0 |
| Instrument Inputs: | 2 |
| Digital Output: | ADAT / S/PDIF |
| Digital Input: | ADAT / S/PDIF |
| Headphone Out: | yes |
| MIDI Inputs: | 0 Ports |
| MIDI Outputs: | 0 Ports |
| Host Port: | Thunderbolt |
| Headphone Outs: | 2 |
| Theme: | Recording and Studio |
Financing
Ratenkauf by easyCredit
You have the option to easily pay the order amount in installments. This service is only available in Germany.

Order amount: 200 EUR - 10000 EUR
Duration: 6 - 60 months
instant decision, no PostIdent required
Further information in the infocenter
Financing ConsorsFinanz
Finance simply and securely through our partner ConsorsFinanz. You may choose your monthly installments flexible according to your wishes. This service is only available in Germany.

Order amount: 250 EUR - 10000 EUR
Duration: 6 to 72 months
0% financing with duration up to 12 months
Further information in the infocenter