Dateq VIBE 4Kanal DJ-Mixer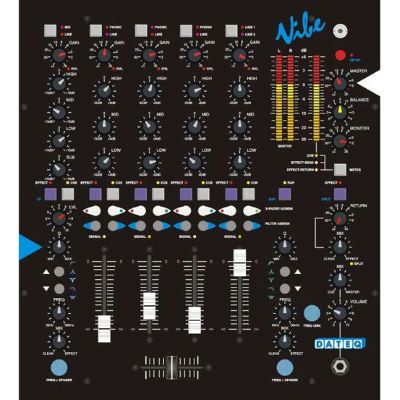 We are no longer offering this product. You will surely find a current product that meets your needs, because we are striving to expand our extensive product range.

Rating:
No review available
Description
Vibe
Progress DATEQ Vibe
The biggest DATEQ novelty is the soon to be released Vibe mixer. It is built to form an affordable, better, and far more reliable alternative to the established mixers in the DJ scene.

This mixer has four channels; both line and phono inputs can be connected. There is one additional vocal/ line channel with a dedicated tone control.

This channels' equaliser is especially designed to control the human voice. The controls intervene at frequencies of 60Hz, 350Hz, 2.5kHz and 10kHz.
The Vibe is equipped with two 5-way, multi-band filter banks to create the most sensational tonal variations you've ever experienced. The frequency of the filters can be linked when using two different filters at the same time. This means you can use the low pass filter and the high pass filter at the same time.
The use of a fully new developed digital routing circuitry in the Dateq Vibe enables all sorts of creative tricks in the signal path.

For instance, each channel has a send/ return function to enable a connection with an external effect-unit. Or the FX can be routed to the master output. Besides the flexible advantages of this digital circuit, the sound quality has improved dramatically!
Three 30-segments VU meters give you accurate information about the master output, cue signal and effect in and output level.

To meet the DJ standards, a deep tone control from -32dB to +8dB has also been fitted. The high quality VCA faders are a guarantee for many years of problem free professional torturing.


Highlights
- 4 VCA controlled channels

- Programmable crossfader curve

- Tone control from -32 to +8dB

- Clear VU-meters

- Possibility for split headphones

- "digital routing circuitry"

- Two internal filter banks

- Microphone with "rap" switch

- "Technics sized"

- Build-in limiter