Kemper Profiler PowerHead + Profiler Remote Set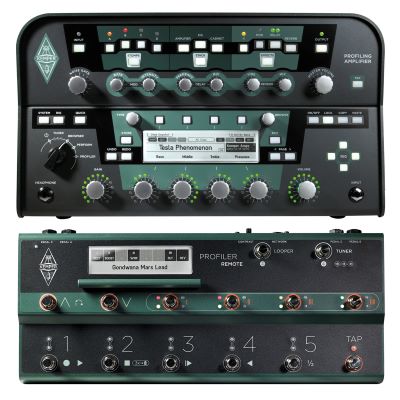 Availability online:
Delivery time: 15 ‐ 20 business days (Germany)
---
Check availability in store:
---
Shipping Weight:
12.60 kg
1
Kemper Profiler PowerHead + Profiler Remote Set is also available in the following bundles
Kemper Profiler PowerHead + Profiler Remote Set Product Details
Description
Set consists of:
1x Kemper Profiling Amplifier PowerHead
1x Kemper Profiler Remote
The Kemper profiling technique allows the creation of a very precise sound image (profile) of an existing amplifier configuration (including box & microphone pickup).
Floor effect emulations (up to 4 at a time), master effects, equalizer, gain, amp definition, power sagging, etc. you can edit the created sound far beyond the possibilities of the original amp, but the Kemper Profiling Amplifier is also delivered with a large number of outstanding amp profiles, so you don't have to create your own profiles. This makes it possible for the first time to reproduce the sound of your amplifier exactly, if desired, to modify it and to have it available for practice, in the studio or on stage without a lot of tugging.
Kemper Profiler Remote provides you with full control over your Profiler Amp. The easy-to-use and intuitive footboard allows you to control and program your Kemper amp without any previous MIDI knowledge or lengthy study of operating instructions. The large, illuminated display provides all the important information and is easy to read even from a distance and in low light conditions. Five robust footswitches, which can be freely assigned via variable effect banks, allow you to safely navigate between five ad hoc selectable programs. Up to four switches can be assigned to the control of different parameters of or for the effects integrated in the remote control. Additional you can connect up to four footswitches and/or expression pedals. The Profiler Remote is connected to the amp via an Ethernet cable and does not require its own power supply. An additional highlight is the integrated Looper function.
Features:
Kemper Profiler Remote:
Freely programmable footboard for Kemper Profiling Amps
Control of amp parameters, the profiling process or the amp's effect section
Built-in stereo loop-opera with 30 seconds loop time and numerous functions
Control of external MIDI devices
Connect up to 4 footswitches and/or expression pedals
Connection via Ethernet cable
7 m long Ethernet cable included in delivery
Kemper Profiling Amplifier PowerHead:
Mic Input
Line In
Alternative input
direct outflow
Monitor Out
Master Out (connector and XLR)
S/PDIF Digital Input and Output
Midi In/Out/Thru
2x foot switch (jack)
Network and USB
incl. 600 Watt Class D amplifier (600 Watt into 8 Ohm, 300 Watt into 16 Ohm)
Further links
Specs
| | |
| --- | --- |
| Impedance: | 8 Ω |
| Impedance: | 16 Ω |
| Channels: | 3 |
| Effect Processor: | yes |
| Power: | 600 W |
| Amplification: | Modulation |
| Amplification: | Modulation |
| Headphone Out: | no |
| Amp Type: | E-Guitar Head |
| Headphone Out: | no |
| Type: | Amps |
| Theme: | Guitars and Basses |
Product Rating
latest reviews:
Ich hätte es vorher nicht geglaubt: Super flexibel, tolle Sounds ohne langes Schrauben. Einsetzbar für viele Saiteninstrumente von E-Gitarre, E-Bass bis zu amtlichen Akustkgitarrensounds, Mandoline,Bouzouki, Baritongitarre, Kontrabass etc. Mit der eingebauten Endstufe flexibel für Studio, PA und normalem Ampfeeling. Toll
Der KPA soll mir das Leben erleichtern. Genau dies wird er auch tun mit endlosen Möglichkeiten ohne viel lästiges Geschleppe.
Financing
Ratenkauf by easyCredit
You have the option to easily pay the order amount in installments. This service is only available in Germany.

Order amount: 200 EUR - 10000 EUR
Duration: 6 - 60 months
instant decision, no PostIdent required
Further information in the infocenter
Financing ConsorsFinanz
Finance simply and securely through our partner ConsorsFinanz. You may choose your monthly installments flexible according to your wishes. This service is only available in Germany.

Order amount: 250 EUR - 10000 EUR
Duration: 6 to 72 months
0% financing with duration up to 12 months
Further information in the infocenter