Marian Seraph D4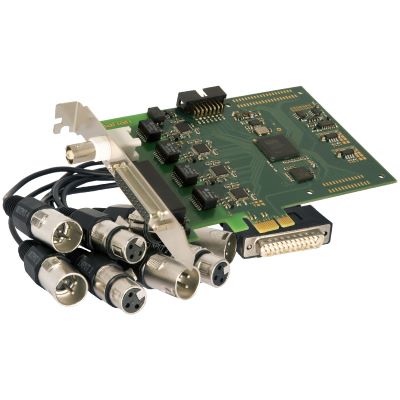 Availability online:
Delivery time: 3 ‐ 10 business days (Germany)
---
Check availability in store:
---
Secure Shopping
Fast shipping
1 month right of withdrawal
Buyer protection
Secure payment with SSL encryption

Rating:
No review available
4260097610339
Marian Seraph D4 Product Details
Description
Uncompromising digital audio world
The central of the professional fully digital audio studio has been created. With the best components available and only the finest sample rate converters in the circuit, the SERAPH D4 offers an incredible 140dB of dynamics at any point in the signal flow and at any sample rate up to 192kHz. Equipped with a modern PCIe interface and transfer routines that have been specially developed and optimized for high-speed transmission of the best 32-bit audio quality, this sound system can transform a computer into an extremely solid digital recorder - but also into a signal converter or digital mixer. This 16-channel AES/EBU sound system offers a fully MIDI controllable DSP mixer with 64 virtual channels, up to 5 pre/post switchable aux sums, 4 EQs in each channel and a super flexible routing - ideal for a continuous digital and latency-free signal flow.
Thanks to its 4 AES/EBU inputs and outputs and an additional 8 signals via the TDM SyncBus, the SERAPH D4 will be a reliable partner and the right choice for a studio working with many digital signals.
Flexible and Expandable: The TDM SyncBus
Using the TDM SyncBus, you can upgrade the SERAPH D4 with up to 3 more of its kind or with any other SyncBus compatible MARIAN sound systems. E.g. with an 8 channel AES/EBU or analog system. The SyncBus allows all connected clock signals and start/stop information to be exchanged. This unique solution ensures reliable recording of all signals from all participating sound systems. And even more: TDM SyncBus-compatible systems also allow the transfer of up to 8 channels thanks to intelligent bus management. The signals will appear in each mixer of each connected card. But even without another sound system, the TDM SyncBus is a very useful tool. EQs on mix sums> can be realized or signals of a software application can be recorded again. (re-recording)
Fast and reliable: The Multi-client Driver Suite
Each SERAPH system offers support for WindowsTM 7/Vista/XP/Server2003/2000. The true multi-client and continuously improved driver includes ASIO 2 -, GSIF 2 -, WDM with kernel streaming and true, non-emulated DirectSound support for lowest latencies in all software environments. Unlike competing products, the driver allows multiple audio applications to access the sound system simultaneously using the same or different driver interfaces.
Well-structured driver menus and dialogs combined with an easy-to-read and practical-orientated printed manual make this system extremely easy to set up and adapt to the specific needs of the studio. Of course, all settings and even the MIDI assignments as well as the signal flow from mixer and routing can be saved in one file. (Totall Recall)
Powerful and Future-Proof: The Right Decision
The SERAPH D4 is available in 2 versions. For easy integration, the SERAPH D4 with its word clock input will work perfectly in all recording situations. The SERAPH D4 MWX contains an additional board which is equipped with 2 MIDI inputs and outputs as well as a word clock synchronization output. It is automatically recognized after connecting and does not require any extra software installation. The advantages of the MWX are obvious: For example, the 2 MIDI inputs can be used directly for MIDI control of the BEAST by your preferred MIDI controller.
The word clock connectors, on the other hand, are ideal for extended clock circuits that allow independence from the clock signal of the AES/EBU inputs. This means that all external equipment with word clock input can also be synchronized by the SERAPH D4 MWX as clock master. In addition, the high quality sample rate converters of the audio inputs allow unparalleled flexibility when setting up the digital studio. Of course, the SRCs can also be deactivated - for a signal path that is beyond doubt truly pure. A good tool to control the clock signals is the included software status window. This clearly displays all sample rates, the lock status, the status of the sample rate converters and, if applicable, all synchronization errors of all digital input signals. Like every MARIAN sound system, the SERAPH D4 impresses with its simple installation and constantly controlled highest manufacturing quality. Furthermore the SAMPLITUDE PRO X2 Silver Software is included for free with this product.
Features:
4 AES/EBU I/O
switchable input SRCs with 140 dB dynamic range
"BEAST" DSP powered
24 Bit / 192 kHz Sample Resolution
"Beast" DSP powered
24 Bit / 192 kHz Sample Resolution
Wordclock / Superclock Input
Multi-Card Support
TDM SyncBus
PCIe Audio Interface
1 lane (PCIe 1x) according to PCI Express Base Specification 1.1
PCIe Busmaster DMA with Direct ASIO Support
2 XLR for AES/EBU I/O to Sub-D adapter cable
Sample rates 22 kHz ... 192 kHz
compatible with Windows™ 2000/XP/2003 Server/Vista/2008 Server, Windows™ 7 each in 32-bit version
incl. SAMPLITUDE PRO X2 Silver
Further links
Specs
| | |
| --- | --- |
| Color: | Silver |
| Line Outputs: | 4 |
| Line Inputs: | 4 |
| Mic Inputs: | 0 |
| Phono Inputs: | 0 |
| Instrument Inputs: | 0 |
| Digital Output: | AES/EBU |
| Headphone Out: | no |
| MIDI Inputs: | 0 Ports |
| MIDI Outputs: | 0 Ports |
| Host Port: | PCIe |
| Type: | Audio Interface |
| Theme: | Recording and Studio |
Financing
Ratenkauf by easyCredit
You have the option to easily pay the order amount in installments. This service is only available in Germany.

Order amount: 200 EUR - 10000 EUR
Duration: 6 - 60 months
instant decision, no PostIdent required
Further information in the infocenter
Financing ConsorsFinanz
Finance simply and securely through our partner ConsorsFinanz. You may choose your monthly installments flexible according to your wishes. This service is only available in Germany.

Order amount: 250 EUR - 10000 EUR
Duration: 6 to 72 months
0% financing with duration up to 12 months
Further information in the infocenter