MOTU Ultralite MK4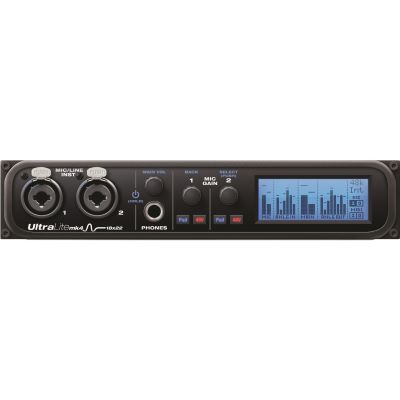 We are no longer offering this product. You will surely find a current product that meets your needs, because we are striving to expand our extensive product range.

Rating:
No review available
839128006058
MOTU Ultralite MK4 Product Details
Description
18x22 USB audio interface with DSP, mixer functions and effects
The UltraLite-mk4 is housed in a compact and sturdy aluminium enclosure and can be used in the studio, on stage or anywhere - with or without a computer.It is connected to the computer via USB 2.0 (compatible with USB 3.0). 18 inputs and 22 outputs connect the UltraLite-mk4 to the outside world: 2 combo XLR/jack inputs for microphones and guitars, 6 analog line inputs, 10 analog line outputs, 8 optical ADAT inputs/outputs (incl. support for 2-channel SPDIF), stereo RCA SPDIF inputs/outputs, one MIDI input/output and a headphone jack. This can be used to connect a complete set of equipment, including speakers, microphones, guitars, synthesizers, keyboards, drum machines, effects and MIDI devices, and headphones.
The analog outputs have a dynamic range of 117 dB at sample rates of up to 192 kHz. Retreaded drivers ensure great-sounding recordings with minimal latency and fantastic sound quality.
The software that controls the UltraLite-mk4 is a web-based application provided by the interface. Connected to the computer, the Web App can be opened via browser, directly in the computer, or in a WLan network via mobile devices. The routing and splitting matrix gives an overview of the routing and splitting of each individual analog/digital input and computer channel to each output and computer - split each input to multiple audio outputs.
The internal mixing console with 48 inputs, 7 stereo aux busses, 3 sends for recording, monitoring, routing and effect processing allows a comprehensive and problem-free mixing - without any latency and without burdening the computer.Hardware-based DSP effects can be used independently of the computer, e.g. Classic Reverb with reverb tails of up to 60 seconds, gate and compressor.
The 4-band equalizer is equipped with filter types similar to the British analog consoles. There are two different compressor types - conventional compression and Leveler - an authentic replica of the legendary LA-2A optical compressor. The professional diagnostic tools are perfect for analyzing the audio material: FFT display, spectrogram "Waterfall" display, fully equipped oscilloscope, X-Y plot and phase analysis.
The UltraLite-mk4's large, backlit display provides a complete overview of all audio signals. Settings can also be made directly on the device via the internal menu.
Features:
18x22 USB Audio Interface with DSP
USB 2.0 (compatible with USB 3.0)
2 Combi XLR/jack inputs for microphones and guitars
6 analog line inputs
10 analog line outputs
8 optical ADAT inputs/outputs (incl. support for 2-channel SPDIF)
Stereo RCA SPDIF inputs/outputs
One MIDI input/output
1 Headphone jack
117 dB dynamic range at sample rates up to 192 kHz
Internal mixer with 48 inputs, 7 stereo aux busses, 3 sends for recording, monitoring, routing and effect processing
Hardware-based DSP effects
4-band equalizer
2 different compressor types
Backlit display
Specs
| | |
| --- | --- |
| Color: | Black |
| Rack Mountable: | no |
| Line Inputs: | 6 |
| Line Outputs: | 10 |
| Mic Inputs: | 2 |
| Phono Inputs: | 0 |
| Instrument Inputs: | 2 |
| Digital Output: | ADAT / S/PDIF |
| Digital Input: | ADAT / S/PDIF |
| Headphone Out: | yes |
| MIDI Inputs: | 1 Port |
| MIDI Outputs: | 1 Port |
| Host Port: | USB |
| Headphone Outs: | 1 |
| Type: | Audio Interface |
| Theme: | Recording and Studio |