Zoom Q8 B-Ware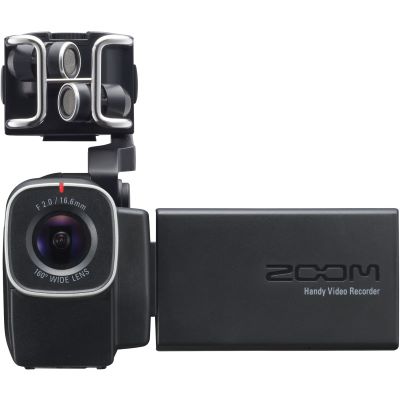 We are no longer offering this product. You will surely find a current product that meets your needs, because we are striving to expand our extensive product range.
Rating:
No review available
4515260014699
Zoom Q8 B-Ware Product Details
Description
Warum B-Ware?: Leichte Gebrauchsspuren
Der Q8 Handy Video Recorder ist unser fortschrittlichster Camcorder. Der Q8 ist eine hochauflösende Videokamera mit einem Weitwinkelobjektiv, einer benutzerfreundlichen Touchscreen-Steuerung und flexiblen Befestigungsoptionen. Der tragbare Audiorecorder bietet neben austauschbaren Mikrofonkapseln zwei Combo-Eingänge und nimmt bis zu vier Spuren in großartiger Klangqualität auf. Der Q8 ist das perfekte Kreativ-Werkzeug.
Features:
Aufzeichnung direkt auf SD-, SDHC- und SDXC-Karten mit bis zu 128 GB Kapazität
Hochwertiges 160° Weitwinkelobjektiv mit wählbaren Blickwinkeln (F 2.0 / 16,6 mm)
Unterschiedliche Mikrofonkapseln lassen sich so einfach austauschen wie die Objektive einer Kamera
Abnehmbares X/Y-Stereomikrofon (XYQ-8) im Lieferumfang
Kompatibel mit allen Zoom-Mikrofonkapseln (separat erhältlich)
Farbiger, schwenkbarer LCD-Touchscreen
Fünf HD-Videomodi mit bis zu 2.304 x 1.296 Pixeln (3M HD) sowie zwei WVGA-Modi
Frameraten von bis zu 60 fps für schnelle Action-Videos und Zeitlupenaufnahmen
Drei Belichtungsprogramme (AUTO/CONCERT/NIGHT) für alle Lichtverhältnisse
Selbstauslöser
Digitaler Zoom
Videoaufnahmen im MOV-Format (mit oder ohne Audiospur)
Audioaufnahme im AAC- oder WAV-Format mit max. 24 Bit / 96 kHz
Gleichzeitige Audioaufnahme von bis zu vier Spuren
Zwei Mic/Line-Combo-Eingänge (XLR / TRS) mit Phantomspeisung und -20 dB Pad-Schaltung
Gain-Regelung nach analogem Vorbild pro Eingang
Integrierter Audio-Mischer
Stereo-Link-Funktion
Gain-Automatik sowie integrierter Kompressor und Limiter
M/S-Matrix zur Konvertierung von M/S-Signalen von externen Mikrofonen in herkömmliches Stereomaterial
Schaumstoff-Windschutz und Hochpassfilter verhindern tieffrequente Störgeräusche und Trittschall
Separate Buchse für Kopfhörer / Line Out
Integrierter Lautsprecher für die direkte Aufnahmekontrolle
HDMI-Videoausgang für HDTV-Geräte, zwischen NTSC und PAL umschaltbar
USB-Port für Live-Streaming und Datenaustausch mit PC-gestützten Videoschnittprogrammen
Nutzbar als Webcam und USB-Mikrofon an externen Geräten wie einem Computer oder iPad (Apple Camera Connection Kit erforderlich)
Latenzfreies Direct-Monitoring für den Betrieb als USB-Mikrofon
Kompatibel mit USTREAM Producer, Flash live Media Encoder, Skype und weiteren bekannten Streaming-Anwendungen
SD-Kartenleser-Funktion
Lithium-Ionen-Akku (aufladbar via USB oder über optionales Netzteil)
Mehr als zwei Stunden Akkulaufzeit
Standard-Stativgewinde
Adapter zur Befestigung auf Actioncam-Zubehör mit drei Zapfen im Lieferumfang
Further links
Specs
| | |
| --- | --- |
| Color: | Black |
| Type: | Mobile Audio Recorder |
| Line Inputs: | 2 |
| Line Outputs: | 1 |
| Mic Inputs: | 2 |
| Digital Input: | none |
| Digital Output: | none |
| Fader: | 0 |
| Effect Processor: | no |
| Set Offer: | no |
| Headphone Out: | yes |
| Rack Mountable: | no |
| Theme: | Recording and Studio |